Installation view in the exhibition "Interwoven"
Glasmoog Cologne, 18.05. – 25.06.2022
photos: Heidi Pfohl
2022, Installation, Computational Knitting
6 blankets (wool), 70 × 160 cm
The handling of information flows shapes our everyday lives in an ambivalent way. Disinformation and conspiracy myths – catalyzed by social media – entangle families and circles of friends in sometimes controversial discussions. In their collaborative exhibition "Interwoven," Vera Drebusch and Florian Egermann reflect on this dynamic and translate Twitter data via "computational knitting" into knitted works that seem everyday and at the same time auratic.
The installation is a collaboration of the artists Vera Drebusch and Florian Egermann.
2022, Installation, Computational Knitting
6 Wolldecken, 70 × 160 cm
Der ambivalente Umgang mit Informationsströmen prägt unseren Alltag. Desinformationen und Verschwörungsmythen verstricken – katalysiert durch die sozialen Medien – Familien und Freundeskreise in teils kontroverse Diskussionen. In ihrer kollaborativen Ausstellung "Interwoven" reflektieren Vera Drebusch und Florian Egermann diese Dynamik und übersetzen Twitter-Daten per "computational knitting" in alltäglich anmutende und zugleich auratische Strickwerke.
Die Installation ist eine Kooperation der Künstler:innen Vera Drebusch und Florian Egermann.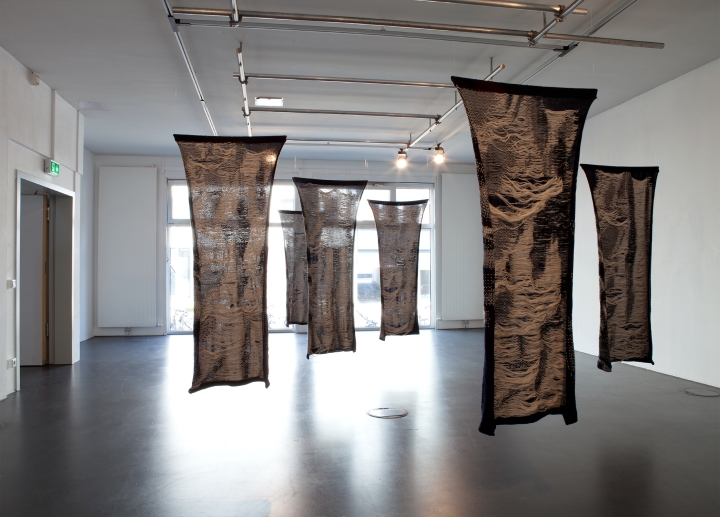 Kindly supported by | Mit freundlicher Unterstützung von